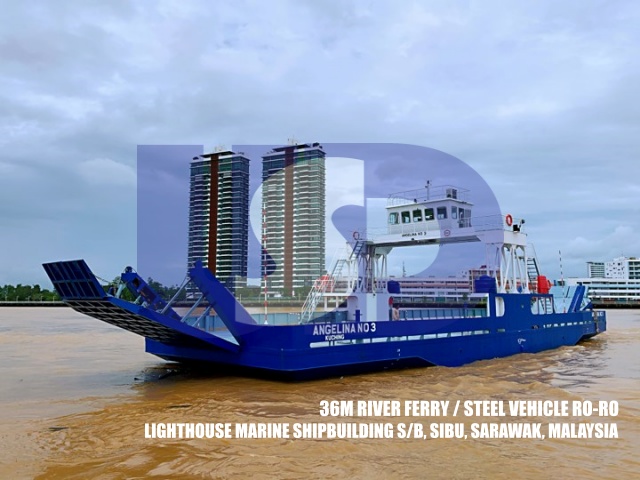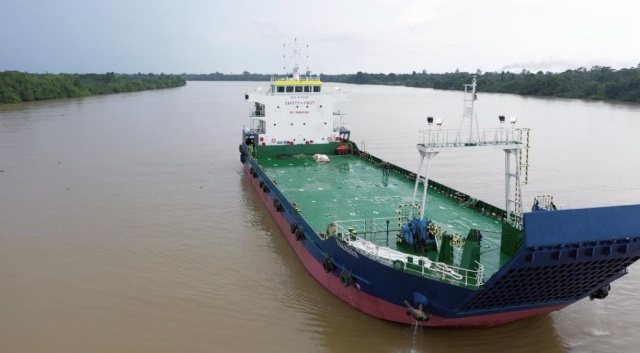 One of our most successful designs as 80M Landing Craft was successfully delivered to Australia's state-owned Tasmanian Ports Corporation Pty Ltd (TasPorts).
Reference: Borneo Post – http://www.theborneopost.com/2018/01/22/local-shipbuilders-assured-of-support-from-state-govt/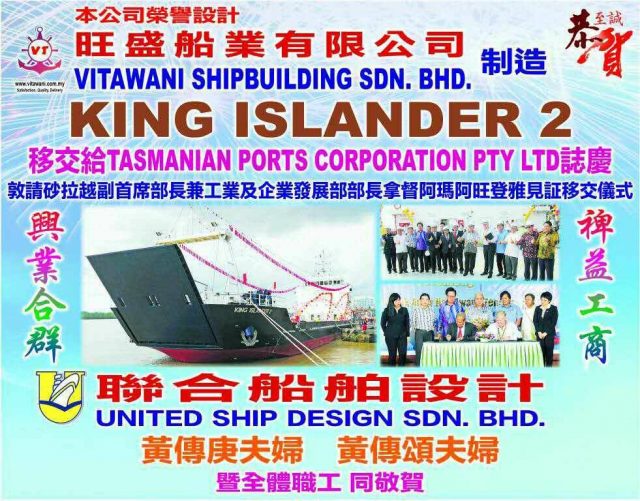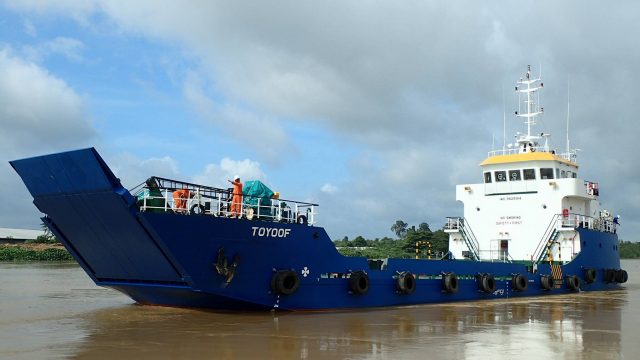 One of our major projects of 2014 – 2015, 40M Utility Vessel was successfully delivered to Fiji Government on July 2015.
Delivered in July, 2015, "CAGIVOU" is one of the designs from United Ship Design, Sibu, Malaysia, constructed by Kian Juan Dockyard Sdn Bhd, Miri, Malaysia.
It is the third vessel which was delivered by Sarawak Shipbuilders to Fiji Government. The launching ceremony were also witnessed by Permanent Secretary for the Ministry of Infrastructure and Transport of the Government of Fiji, Commander Francis Kean, Managing Director of Kian Juan Dockyard Sdn Bhd, Mr. Lim Chee Leong, Managing Director, Mr. Wong Tuong Keng of United Ship Design Sdn Bhd and some more Media.
Other recently delivered to Fiji Government, like Sigavou and Vunilagi (both are 45M Landing Craft) were also designed by United Ship Design Sdn Bhd. They were built in 2014 from Sibu.
With an overall length of 40 metres on a breadth of 11m, the vessel has a depth at sides of 3.8m and a design draft of 3.2m. Classified by ClassNK, which notation is NS*(UV), MNS*.
"CAGIVOU" has twin Cummins KTA19-M3 main engines powering a fixed propeller with Reintjes WAF364L. A pair of 80 kW generator sets provide auxiliary power.
On sea trials the vessel achieved a speed of 12 knots. And the overall performance was found satisfactory by all parties.
"CAGIVOU" will be used as transportation in development projects such as building of schools, hospitals as well as transporting people in the rural part of the country.
Reference:
1) See Hua Daily –  http://www.news.seehua.com/archives/75784 or new 1 or new 2 or new 3 or new 4
2) Borneo Post – http://www.theborneopost.com/2015/05/21/sarawak-delivers-third-vessel-to-fiji-govt/ or new 1
3) Marine Link – http://www.marinelink.com/news/osvinspired-islands-ferry395005.aspx or new 1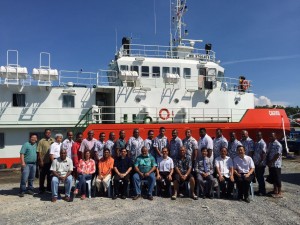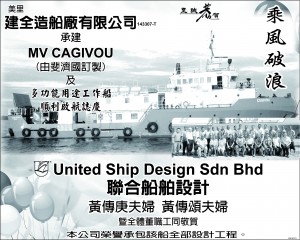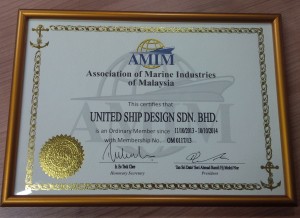 United Ship Design Sdn Bhd has been an ordinary First Member of Design Service in Association of Marine Industries  of  Malaysia (AMIM) since 11 OCtober 2013. For more detail, please visit http://www.amim.org.my/AMIM/united-ship-design-sdn-bhd/.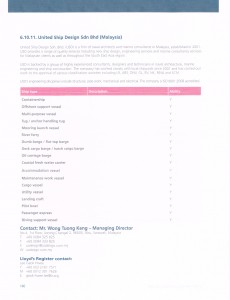 21 November, 2013 – You may find the useful information which includes the services and backgroud of United Ship Design (Malaysia) in the "New Construction in South Asia Booklet" which was published by Lloyd's Register  on June 2013.
Hamburg/Oslo, 20. December 2012: An agreement has been signed to merge DNV and GL. The new entity will be called DNV GL Group. It will be one of the world's leading ship classification societies and risk experts in the oil and gas, renewable energy and power sectors, and among the global top three within management system certification.
"The merger rests on a strong strategic rationale, and responds to challenges of increased globalisation, rapid technological change and the need for sustainable development. Our customers will benefit from an increased service offering and global competence base as well as one of the densest networks," says DNV's Group CEO, Henrik O. Madsen, who will be the CEO of the combined new company. "The merger with DNV supports our long-term goal of being recognized as one of the most respected technical assurance and advisory companies in the world", adds GL Group CEO, Erik van der Noordaa.
By combining the two international organisations, the new company will be one of the world's leading independent technical service providers with state-of-the-art technological expertise and strong capabilities for innovation. With more than 17.000 employees and an extensive global network of offices, DNV GL Group is positioned to meet increased international competition and even better serve the needs of the customers.
The DNV Foundation will hold 63.5 %, while GL's owner Mayfair SE will hold 36.5 % of the shares. The new company, with a combined turnover of some EUR 2.5 billion, will be headquartered and registered in Norway.
"We see this as a good strategic match. The two companies have a common set of values and complementary strengths. Both have strong brands and solid market positions as well as a reputation for high quality and strong integrity. There were negotiations between DNV and GL both in 1999/2000 and in 2006 about closer cooperation. I am very pleased that timing now seems to be right," says Leif-Arne Langøy, the Chairman of DNV's Board of Directors.
"DNV is the partner of choice for GL. Besides DNV's clear commitment to Hamburg our decision for this partnership is based on the complementary fit of DNV and GL as well as the joint ambition for innovation and quality of both companies. As a long-term oriented shareholder we consider this partnership to be the continuation of our successful investment in Germanischer Lloyd," says Guenter Herz, Chairman of Mayfair SE.
DNV GL Group will strengthen its foothold in several areas of expertise, including the maritime segment and across the entire oil & gas value chains. The Group will be one of the global leaders in pipeline verification and asset integrity services as well as in renewable energy certification and advisory services. Moreover, it will be a strong player within power transmission and distribution as well as testing and certification services. To enhance its service offering the DNV GL Group will strengthen its focus on R&D and innovation.
DNV GL Group will operate in the business segments Maritime, Oil & Gas, Energy and Business Assurance. Its global headquarters will be at Høvik outside of Oslo.
The maritime business unit will be headquartered in Hamburg, Germany, while maintaining its commitment to the Norwegian maritime cluster. Oil & Gas will be headquartered at Høvik, Norway, while Energy will be headquartered in Arnhem, the Netherlands and Business Assurance in Milan, Italy. DNV GL Group will be organised as a Norwegian limited company (AS). The transaction requires approval from competition authorities.
Date: 2012-12-20
Source from: http://www.dnv.com/press_area/press_releases/2012/dnv_and_gl_to_merge.asp
Since the Maritime Labour Convention, 2006 (MLC 2006) was adopted by the International Labour Organization (ILO) in February 2006. On August 20th, Philippines become the 30th country to ratify the MLC2006, in which means the MLC 2006 has been ratified by 30 countries representing more than 33% of the world's gross tonnage.  And now there are now exactly 10 months left until the new Convention enters into force.
It's about the time gear up and get prepare for the MLC2006!
The MLC2006 Road Show in Sibu, Sarawak, Malaysia was successfully orginazied by Malaysia Marine Department, Malaysia Shipowner's Association (MASA),  and the National Union of Seafarers of Peninsular Malaysia (NUSPM) on 17th October 2012.
For more information about the MLC2006, please visit the website as http://www.ilo.org/global/standards/maritime-labour-convention/lang–en/index.htm