EEDI (Energy Efficiency Design Index) & SEEMP (Ship Energy Efficiency Management Plan)
The Marine Environmental Protection Committee (MEPC) 62nd meeting took place from July 11th to 15th at
the IMO headquarters in London. The meeting largely focussed on Reduction of Greenhouse Gases (GHG)
from ships which led to the adoption of "Energy Efficiency Regulations" as part of a new Chapter 4 of MARPOL
Annex VI. These include Energy Efficiency Design Index (EEDI) and Ship Energy Efficiency Management Plan
(SEEMP).
EEDI reflects the amount of CO2 generated per tonne-mile (cargo carrying capacity). It constitutes a uniform
approach to calculation of a ship's energy efficiency during the design and build of new ships and will be
used to control CO2 levels emitted for future new ships by encouraging improvements in ship design.
SEEMP establishes a mechanism for operators to improve the energy efficiency of ships through the
management of individual efficiency measures.
Application
Date of entry into force will be 1st January 2013. The SEEMP will be applicable to all ships greater than 400GT
whilst the EEDI will only apply to new ships, excluding those with diesel-electric, steam turbine or hybrid
propulsion systems, as follows:
• Ship for which the building contract is placed on or after 1st January 2013;
• In the absence of a building contract, the keel is either laid or which is at a similar stage of construction, on
or after 1st July 2013;
• The delivery of the ship is on or after 1st July 2015.
For any inquiry about our services, please do not hesitate to contact us directly for more information.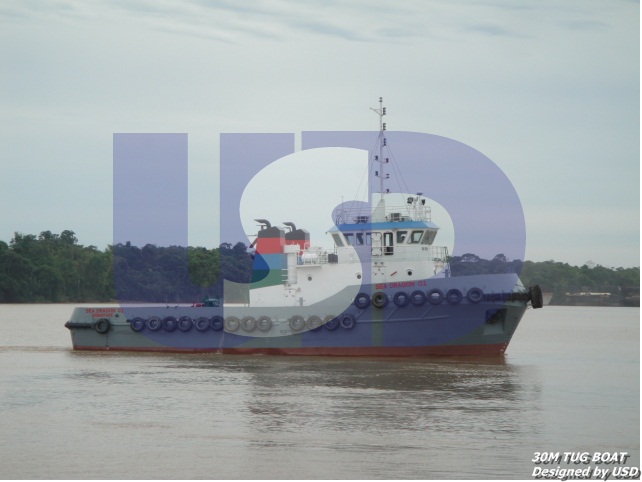 New launching of 30M Tug Boat in May, 2012. She is classified by NK. Powered by two untis of Mitsubishi S6R2-T2MTK3L, 759KW@1406RPM engines. She reached speeds of up to 11.7knots during the official sea trial.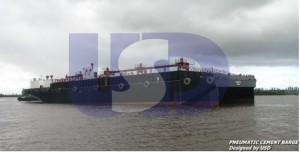 The 7000DWT Self-Unloading Cement Barge/ Pneumatic Cement Carrier was successfully launched and completed in the December, 2011.
Dear Customers,
Please be informed that, every first Saturday of each month will be treated as off day. And It comes with the immediate effects, implementation period from November 2011 until March, 2012.
from: Management

To any parties that who may concern,
Meetings of Non-conversation Rules & Regulations were held earlier in March, 2011.
Mr. Wong Tuong Keng, the Managing Director of United Ship Design Sdn. Bhd., acted as Technical Adviser of Sarawak and Sabah Shipowners Association (SSSA) has strived to apply for the amendment of Radio Installation Requirements.
The proposal eventually was adopted. Therefore, amendments has been made to the Radio Installation Requirements stipulated in Chapter IX of the Requirements & Technical Standard For Non Convention Cargo Ship Pertaining to Safety Construction, Radio, Life Saving Appliances & Equipment of Radio Navigation Aids.
This new amendment, which overides the previous version, is as follows:
Radio Installations
Ships below 300GRT shall comply with the requirement of "Chapter IV SOLAS 1974/78" – Radiotelephony System and to be installed with Navtex, Radar Transporter and EPIRB.
Ships above 300GRT shall comply with requirement of "Chapeter IV SOLAS1988/1999" – GMDSS System.
The above amendments are only applied for the vessels which is registered under Malaysia Flag. Besides, the revised version (including other amendments) will be established soon by Marine Department, Malaysia.
Please do not hesitate to contact us for further clarification.
(本报诗巫16日讯)在发生紧急事故时,为求达到最好的救援效果,东马船东公会吁请船只安装"雷达应答器"(Search and Rescue Transponder-SATS)以及"紧急位置指示无线电信仪器"(Emergency Position Indicating Radio Beacons-EPIRB)。
该会主席陈亨强于昨晚举行的新闻发布会上指出,至目前为止,许多船只仍未安装上述的仪器。
他 指出,"雷达应答器"体积小,必须由水手带到救生艇上,若有此仪器,就可向九海里(9Nautical Miles或15km)发出信号,所有经过的船只,以及搜寻救援队伍将更容易找到落难者,而"紧急位置指示无线电信仪器"则是安装在船只最高处,在船沉入 三米深(3Meter)的海里时,就会自动发射无线讯号,让救援队伍可以找到沉船地点。
他说,"由于海事局近年来才要求各大船安装此仪器,故本地或近海航行之船只仍未被指定安装。但本会藉此呼吁所有离开河流出海的船只,都安装以上两个仪器,以在海难发生时,能更快的找到落难者。"
他就本月11日发生的顺美二号沉船事件发表上述谈话。
公会关注沉船事故
他说,该会非常关注顺美二号沉船事故。
陈主席说,"虽然该船只之船东并非本会会员,但在同业发生任何事故,需要本会的协助时,我们都会竭尽所能的给予帮助。"
他也特别提醒船东们,多注意风向和海浪的预报,以决定最安全的船只航行路线与日期。本月16-18日,根据预测,南中国海的浪高将达到4.5-5.5米高。一般而言,浪高若超过3.5米,所有中小型的船只(即船重少过三千吨)就不鼓励出海。
至于日前发生的顺美二号沉船事故,他说,马来西亚海事执法单位及海事局都已派出队伍在进行救援工作,该会已致电大马船东公会(Malaysia Shipowners Association)呈报每日进展,并要求海事局总部向古晋施压,以加强搜寻与救援工作。
他说,由于马来西亚海事执法单位刚在砂州成立不久,故所有救援设备都还不齐全,现在每一天的风浪都在不断的加强,许多海事局已谢绝签发离港证(Port Clearance)了。
## information from http://www.seehua.com/node/7501