Instruction to KM Ships – Amendments 3
1. KM ships are allowed to ply from port to port in any one of the following limits:
i) Peninsular Malaysia, Sabah, Sarawak, Labuan and Brunei waters: or
ii) Sabah, Sarawak, Labuan and Brunei waters; or
iii) Peninsular Malaysia waters; or
iv) State waters; or
v) Riverine/ Port Limit.
2. Malaysia ship owners shall make application to the Marine Department for the statutory surveys including plan approvals.
3. Malaysia ships which are not classed with any of the approved Recognized Organizations shall be deemed to be KM ships.
4. The application of Merchant Shipping Notice 16/2009 (MSN 16/2009) is suspended and the standards that were previously in force prior to the implementation of MSN 16/2009 is to be applied.
5. This notice shall be effective from the date of issue.
6. Malaysian Shipping Notice, MSN 34/2010 dated 11th February 2010 and MSN 39/2010 dated 25th May 2010 are hereby revoked.
information from: http://www.marine.gov.my/service/notice/msn/2010/MSN402010.pdf
14. Jun. 2010 | Potsdam – Malaysian ship design and consultancy provider UNITED SHIP DESIGN SDN BHD (USD) has licensed the Computer Aided Engineering (CAE) software system FRIENDSHIP-Framework. USD is the first Malaysian customer of FRIENDSHIP SYSTEMS. The company introduces the software to its design and consultancy work to enhance both the performance and energy efficiency of its designs and to streamline and professionalize its process chains. The license of FRIENDSHIP-Framework 2.1 is part of a design package that FRIENDSHIP SYSTEMS offers in collaboration with Swedish flow expert FLOWTECH.
FRIENDSHIP-Framework is a CAE software system for the simulation-driven design of optimal functional surfaces like ship hulls, rudders, propellers and other maritime systems exposed to a flow regime. The development of optimally task-suitable, energy efficient, high performing designs is achieved in a streamlined design process which is built around integrated simulation. Parametric modelling, variant generation and assessment, as well as hydrodynamic optimization are key design steps which, fed by the simulation results, lead to an optimal design. As a dedicated flow code for the hydrodynamic assessment of ships and their flow phenomena, FLOWTECH's SHIPFLOW has a proper interface to the FRIENDSHIP-Framework.
The Potsdam-based company has released the latest upgrade of the simulation-driven design software FRIENDSHIP-Framework, version 2.1, in late 2009. A new major release with further enhanced functionality and user-friendliness is planned for fall 2010.
……..to be continued………
Information from GL Group.
You may find out the advertisement of UNITED SHIP DESIGN SDN BHD, MALAYSIA in June 2010 WORK BOAT MAGAZINE from Today!!!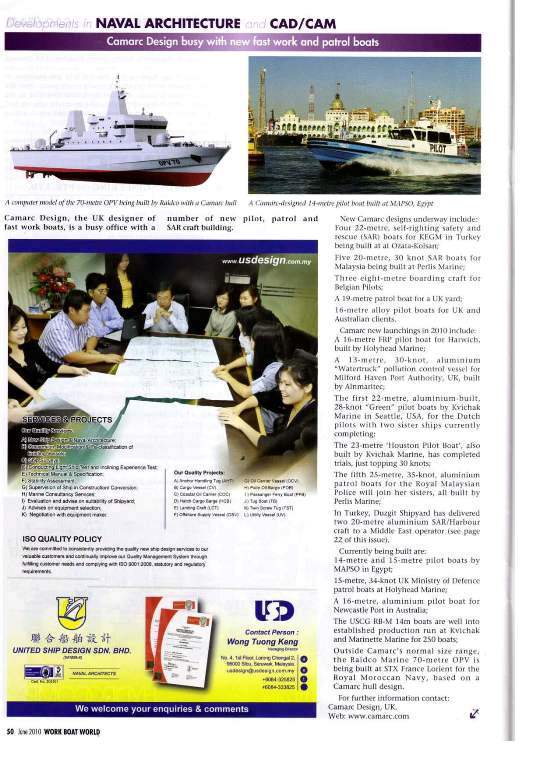 http://www.bairdmaritime.com/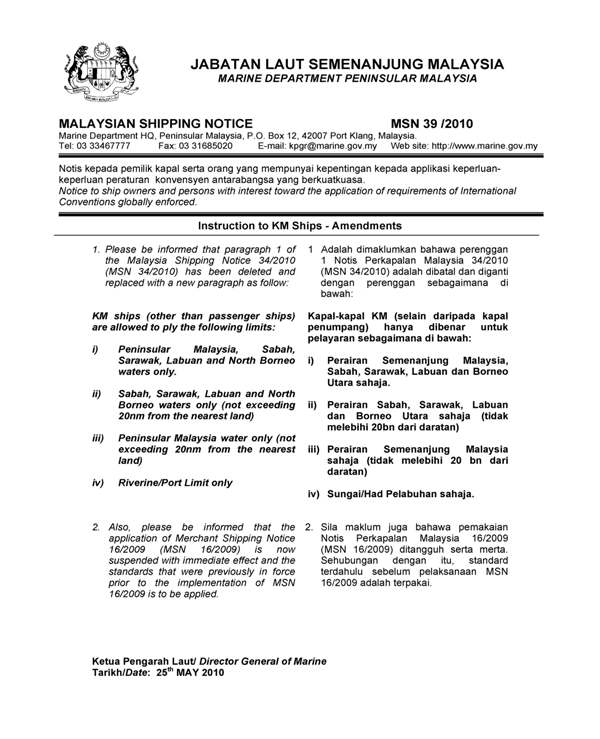 information from: http://www.marine.gov.my/service/notice/msn/2010/MSN392010.pdf